Private jet outfit: A detailed dress code guide
Before we delve into the jet outfits you should choose while flying privately. It's important to note that there is no fixed dress code to follow. The article aims to provide a mere guide on what to wear on a private jet.
The decision of clothing ultimately depends on your preference and convenience. We have gathered these suggestions for you based on our observations that we have noted since the inception of our private jet rental business. Let's take a look at some of the private jet outfit ideas that you must know about:
Suits or tuxedos
Jeans and casual tops
Winter clothing
Shorts and shirts
Tracksuits
Suits or tuxedos
Many of our clients charter jets to attend business meetings in different cities of the world. Not only that, but some of them have also chartered jets to host meetings mid-flight. Therefore, these circumstances call for formal dress attire.
While not the most comfortable clothing style for traveling on a private jet, the purpose of travel here determines the style of jet dressing. If you are traveling to close a business deal and are expecting to be picked up at the airport, you will need to make a strong impression.
Hence, we recommend all business travelers consider dressing up in formal attire while traveling on a private jet.
Jeans and casual tops
The most common choice of dressing while traveling on private jets is wearing casual jeans and tops. This particular style of dressing is suitable for both men and women.
Unlike business travel, traveling for leisure is all about having fun and staying relaxed. Therefore, wearing formal attire is out of the window. Rocking a pair of denim and T-shirts would be a great choice of clothing.
Winter clothing
The cabin temperature on private jets is low. It is done to maintain cabin pressure while also ensuring proper cooling for passengers onboard. We recommend you carry your jackets during long-haul flights as it might get chilly.
While the crew can regulate the temperatures on board to a certain degree, it's always advisable to have your jackets handy.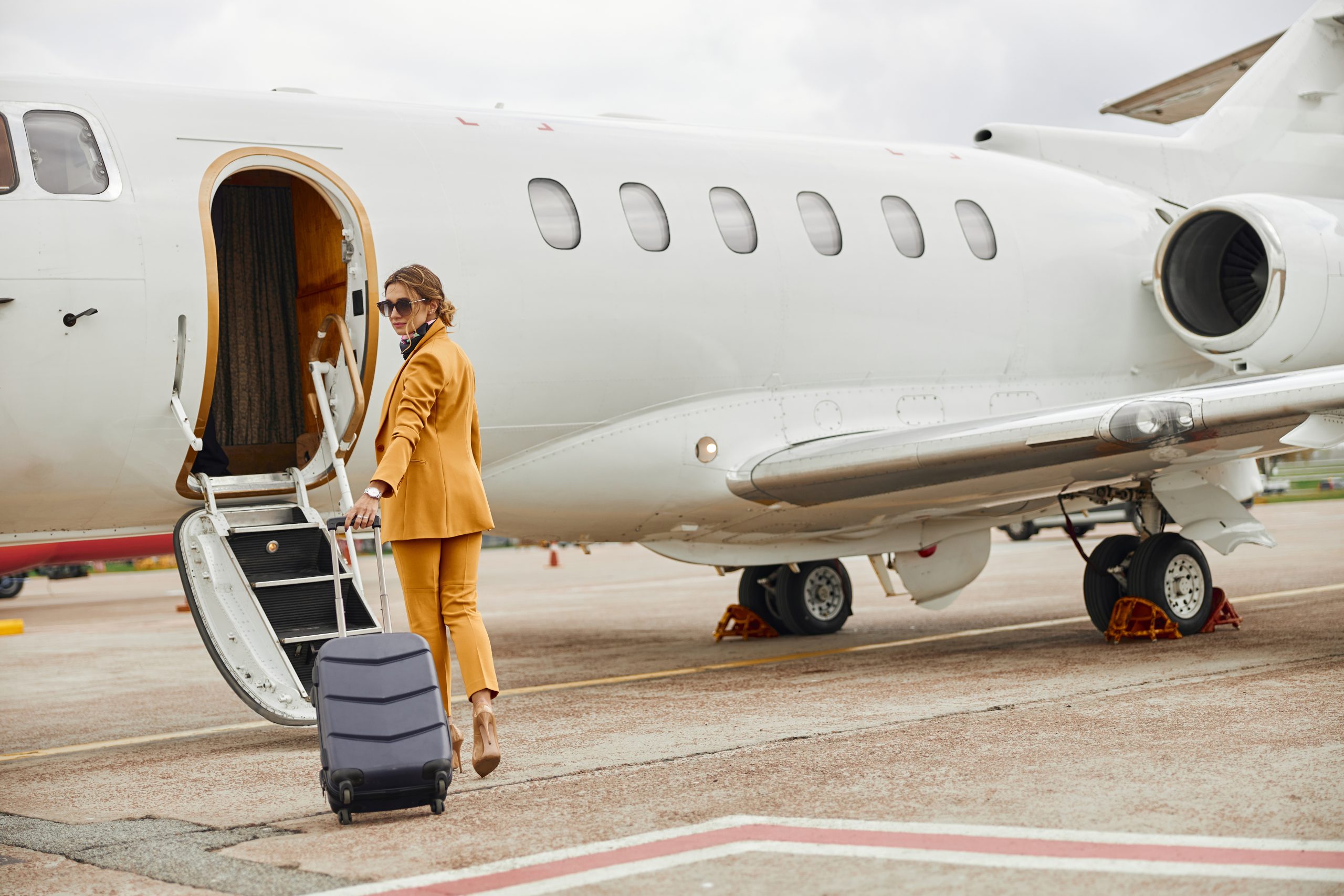 Shorts and shirts
Most travelers also prefer flying on private jets with casual attire like shorts and shirts. It again depends totally on your choice of clothing. Dressing up in shorts and shirts is perhaps more suitable when flying to a foreign destination to spend your holidays.
Some of our jets charter to exotic locations in the Caribbean, where temperatures are mostly humid and hot. Therefore, wearing casual shirts and shorts is more suitable for you when you arrive at your destination.
Tracksuits
One of the most underrated styles of dressing, tracksuits are comfortable flying clothes to wear on private jets. It's always advised to wear breathable clothes, especially during long-haul flights.
Wearing tight clothing can make your journey extremely uncomfortable and can result in drastic health conditions. Therefore, the idea of wearing tracksuits seems very promising.
With more people choosing to wear tracksuits while traveling, opting for tracksuits as private jet outfits have gained significant momentum.
Switch your jet dress mid-flight
One of the things to note when it comes to private jet outfits is that you can always change your dress mid-flight. You can switch your attire during your flight, if you fly on a mid-size to larger jet.
Most of our aircraft have private cabins and are the most popular choice of jets people prefer to charter. These jets allow you to change your outfit at your convenience.
Perhaps, if you have boarded the flight in casuals, you can switch to tracksuits mid-flight and put on a suit as you arrive at your destination. The flexibility you enjoy while traveling makes private jet charters so desirable.
Celebrity private jet outfits
The trend-setters of private jet outfits are celebrities from the entertainment industry. Many famous personalities who frequently travel on private jets are photographed wearing different attire. We have listed out some of the popular celebrities who are known for their jet outfits.
Karlie Kloss
Kylie Jenner
Cristiano Ronaldo
Chris Hemsworth
Lewis Hamilton
The Rock
Victoria Beckham
Bella Hadid
Justin Bieber
Karlie Kloss
Karlie Kloss is an American fashion model and a former Victoria's Secret Angel. She is known for showcasing an upbeat style of dressing. Her choice of clothing while flying private is quite the contrary. Karlie prefers wearing casual dresses and sneakers on private jet flights as they are more comfortable and stylish.
Kylie Jenner
A prime member of one of the most famous families in the world, Kylie Jenner is a fashion mogul. Her brand is associated with fashion and makeup and showcases a high sense of style. On most occasions, Kylie has been spotted wearing fashionable tops while flying on private jets.
Cristiano Ronaldo
Arguably the most successful footballer in the world, Cristiano Ronaldo has a flamboyant style of dressing. He is associated with several high-profile brands. Cristiano has been spotted wearing Nike merchandise on several occasions. His choice of dressing for private jet flights is mostly casual shorts and hoodies from Nike.
Chris Hemsworth
The God of Thunder, Chris Hemsworth, is known for his quirky jet photos with friends and family. Hemsworth is one of the most-known names in Hollywood. His dressing style for private jet flights is more casual, with simple T-shirts and shorts.
Lewis Hamilton
Seven-time world champion Lewis Hamilton is known outside the track for his unique fashion sense. He has his own fashion brand in collaboration with Tommy Hilfiger, known as 'Tommy X Lewis.' Lewis is mostly seen wearing clothing from high brands, with his choice being loose and comfortable hoodies and shorts.
The Rock
Dwayne the Rock Johnson, is one of the most successful wrestlers, actors, and entrepreneurs. He is known for traveling across the world in his private jet, showcasing a varied sense of styling. From formal to casual clothing, The Rock has been spotted wearing different clothing styles while flying on private jets.
Victoria Beckham
Prominently known as a member of the Spice Girls, Victoria Beckham has transitioned from being a singer to a fashion designer. She wears casual clothing like simple jeans and tops while flying private. On some special occasions, Victoria has been spotted wearing highly fashionable tops while flying.
Bella Hadid
One of the world's most famous fashion models, Bella Hadid, is known for showcasing exceptional style. She is known to rock several different types of jet outfits. Her most common style is high-end jeans, custom tops, and premium footwear.
Justin Bieber
A name that needs no introduction, Justin Bieber is among the most successful singers in the world. Beiber is also one of the celebrities with his own clothing line. He is mostly seen wearing his merchandise, which includes large hoodies and soft trousers.

Jet dress: Travel in comfort and convenience
Now that you know what to wear on private jet outfits, the choice of clothing is all yours. We have provided you with a detailed guide to help make your decision about jet outfits easier. From formal attire to jeans and tracksuits, the choice of clothing while flying privately is all at your convenience.