How many seats does a private jet have
Private aircraft come in various sizes, configurations and seating capacities. The private jet capacity depends on the type, layout and other specifications of the plane. Let's check out some popular private jet models and know how many people can fit in a private jet before you rent a jet:
Phenom 300
Citation XLS+
Gulfstream G550
Phenom 300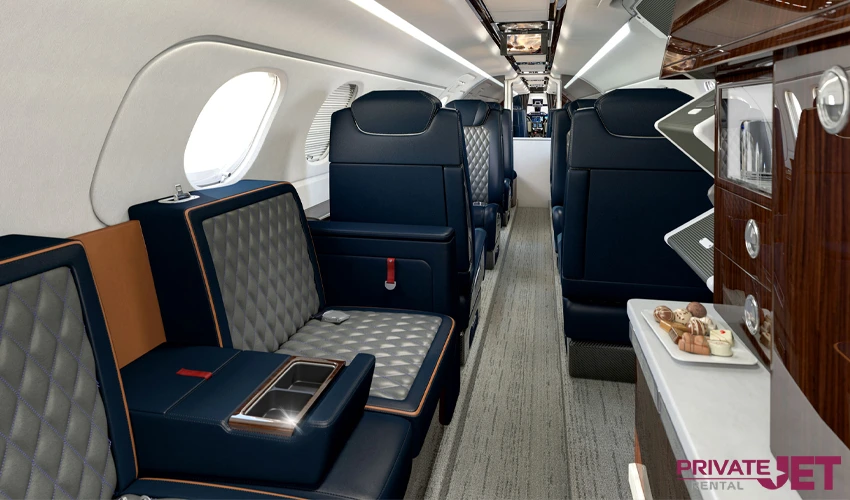 This compact aircraft is a popular light jet that is known for its versatility and performance. It accommodates up to eight passengers, making it an excellent choice for smaller groups or individuals. Regardless of its compact size, the marvelous aircraft provides a comfortable and luxurious travel experience.
Citation XLS+
It's a midsize jet with great performance capabilities. It can comfortably accommodate up to nine passengers providing spacious and comfortable leg space. This type of jet is often preferred by individuals or small groups that want a cozy setup along with range and versatility.
Gulfstream G550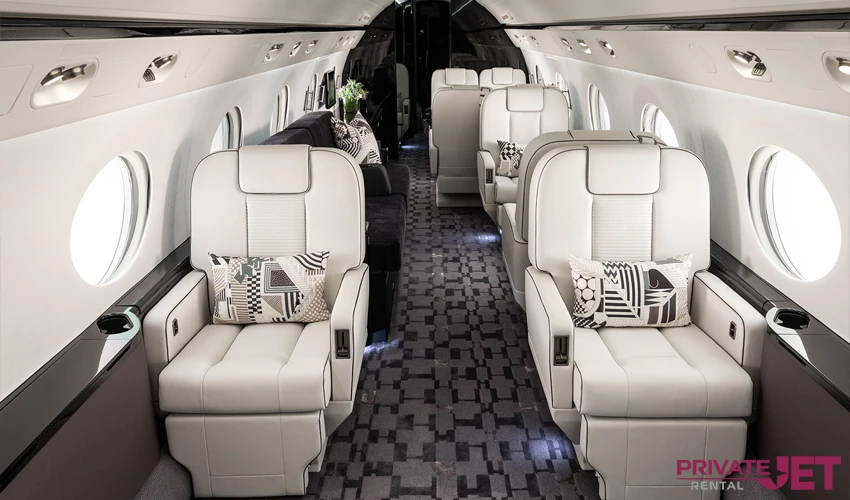 Being a large cabin, this long-range jet provides ample space and amenities for extended journeys. With a seating capacity of up to 18 passengers, it becomes an aircraft ideal for larger groups or corporate travel ensuring a lavish and comfortable experience for all passengers.
Jet luggage allowance
If the passengers adhere to regulations and can understand the luggage allowances provided by the private jets, they can enjoy a more convenient and flexible travel experience. Let's explore the key points for a seamless journey:
Abundant space
Interior storage compartments
Exterior baggage compartments
Communicating the requirements
Limitations and rules
Additional services
Abundant space
Compared to commercial airlines, private jets normally offer to carry a greater number of bags  Passengers enjoy greater flexibility in the amount and size of luggage they can bring.
Interior storage compartments
For smaller items such as personal bags, briefcases, laptops and carry-ons, there are interior storage compartments in private jets. Individuals can easily access their belongings from these compartments.
Exterior baggage compartments
There are also larger exterior baggage compartments specially designed to accommodate larger suitcases, sports equipment and other bulky items. These compartments are located outside the cabin for practical use of cabin space.
Communicating the requirements
In case of specific luggage requirements, passengers must communicate it to the private jet operator or broker during the booking process to make sure that the jet they selected can accommodate the desired luggage.
Limitations and rules
Though private jet luggage allowances are very flexible, there are still certain restrictions on size and weight. Also, passengers should adhere to all security or customs regulations regarding prohibited items.
Additional services
Some operators also offer additional services like valet luggage handling to help with loading and unloading luggage adding to the convenience of the passengers.
Seating arrangements and personalization
A great thing about private jets is that they can be customized to suit the preferences and needs of the passengers, even the seating arrangement. Apart from the usual reclining seats, some models allow for additional options as below:
Dividers and privacy
Convertible seating
Dividers and privacy
Many private aircraft offer dividers that can create separate sections within the cabin. This allows for more privacy and is often requested by corporate travelers.
Convertible eating
Private planes can also be equipped with convertible seats that can transform into beds. This is especially demanded during long-duration flights so the passengers can rest and relax.
Factors affecting private jet capacity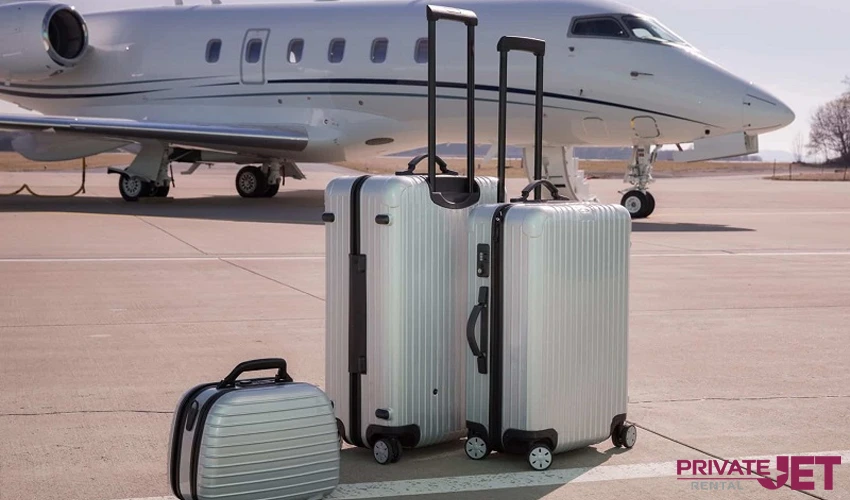 By considering the following factors, travelers can gain a proper understanding of the capacity  of private jets and make informed decisions when selecting their aircraft:
Range of the jet
Configuration of the cabin
Accessibility of baggage compartment
Weight and comfort of the passenger
Range of the jet
The range refers to the maximum distance a plane can travel without refueling. For longer-range flights, the jet needs additional fuel storage that would directly impact the available space for passengers and luggage.
Configuration of the cabin
Whether it's the seating layout or extra amenities, private jets offer various cabin arrangement options. The configuration selected will influence the overall comfort of passengers and the seating capacity of the jet.
Accessibility of baggage compartment
The convenience of storing and retrieving luggage matters a lot. As discussed, private aircraft may have baggage compartments within or outside the cabin for overall convenience during the flight.
Weight and comfort of the passenger
Your weight and comfort preferences may also impact the jet capacity as larger individuals usually require more space, thereby reducing the total number of passengers that can be accommodated. The same goes for legroom preferences.
Comprehensive comparison of private jet models
The table below provides a comprehensive overview of how many people can fit in a private jet and its luggage capacity according to the aircraft size:
| | | | |
| --- | --- | --- | --- |
| Size | Passengers | Luggage capacity (Cubic feet) | Est. Range (nautical miles) |
| Light | Up to 8 | 74 | 1,970 |
| Midsize | Up to 9 | 82 | 2,100 |
| Large | Up to 18 | 170 | 6,750 |
Experience seamless luxury travel with a private jet
While a private jet can be very fascinating, understanding the passenger capacity of a private jet is necessary for a smooth journey. How many seats does a private jet have and how many people can fit in a private jet depends on its seating capacities and luggage allowances. However, you can request customized arrangements before booking. Consider flying private for a personalized experience that aligns perfectly with your requirement.