Private jet guide: 10 best plane travel accessories to carry
To enhance your private jet travel experience, we have listed 10 best plan travel accessories that you can carry.
Neck pillow
Travel blanket
Eye mask
Travel pillow
Portable charger
Noise-canceling headphones
Travel adapter
Reading material
Comfortable clothing
Personal toiletries
Neck pillow
A neck pillow is perhaps the most essential accessory that you must bring along with yourself for a private jet trip. Private jets are equipped with cabins that are designed to provide maximum comfort. However, carrying a neck pillow can substantially reduce the stress on your neck by providing great support. A good quality neck pillow can be helpful during long haul flights.
Travel blanket
If you are traveling overseas it is very important to carry a travel blanket. It will not only allow you to travel in comfort but will also keep you warm throughout the flight. Additionally, you can also use the blanket for great lumbar support or as a pillow.
Eye mask
Another plane travel accessory that you must have is an eye mask. The basic function of an eye mask is to block the light rays and ensure a pleasant sleep during the flight. Let's suppose you are on a day flight from Dubai to Singapore; while you can shut the window covers, you may want to just use an eye mask to ensure a comfortable sleep.
Travel pillow
Well if you are not keen about carrying a blanket and a neck pillow, you can certainly choose to carry a travel pillow instead. A travel pillow is light and can be folded up to a compact size. A travel pillow is designed to provide maximum comfort for your neck and shoulders, and would be vital to carry during long haul private flights.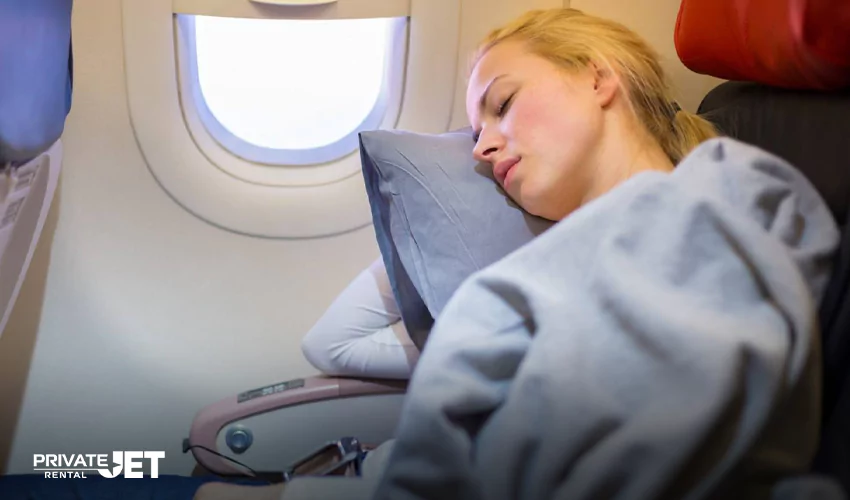 Portable charger
If you are traveling with your portable tablets and laptops, it is essential to carry a portable charger. Let's say you wanna enjoy an evening flight by watching a movie on your tablet, keeping it charged throughout your travel is important. Therefore, carrying a portable charge on a private flight would be very beneficial.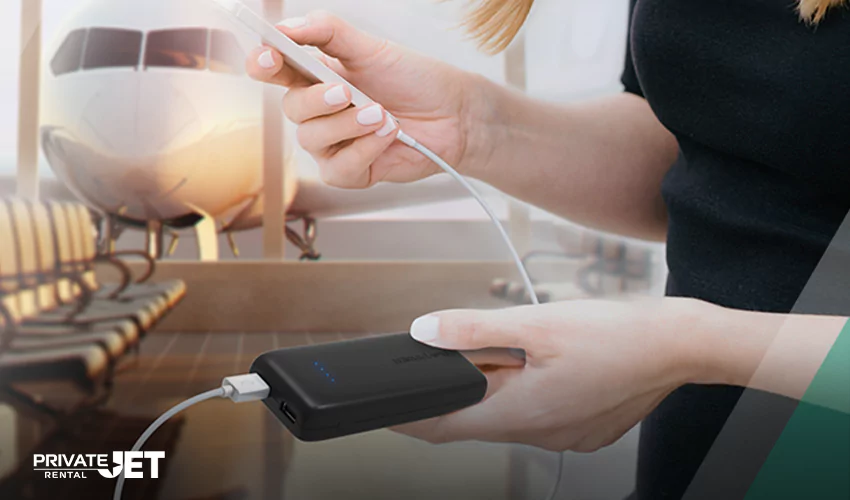 Noise-canceling headphones
This is perhaps the most useful device you can carry on a private flight. While our private jets are very well equipped and sound insulated, to attain utmost serenity you can choose to use a noise-canceling headphone. Noise-canceling headphones from a renowned brand can substantially improve your flying experience.
Travel adapter
Sockets in different countries are designed differently. Therefore, carrying a travel adapter can help you charge up your devices in any country you travel to. This is another handy device to carry on your private jet flight abroad. One of the things to note while buying a travel adapter is to acquire a universal adapter that can be used anywhere across the globe.
Reading material
What better way to spend your time on a private jet than by reading a nice book. You can carry a novel or a magazine of your choice to make your travel experience more fruitful and relaxing. For an overnight private jet, carrying a reading material would be a great choice.
Comfortable clothing
When it comes to the best plane travel accessories, a pair of comfortable clothes is a must. The bigger private jets that we offer for charter are equipped with sizable cabins that allow you to change into something more comfortable. Carrying a pair of sweaters or nightwear would be very helpful especially during long distance travel.
Personal toiletries
While most of our private jets are well-equipped with toiletries and are restocked after every flight, it is still beneficial to carry your personal toiletries. Having your own set of toiletries, will provide you a sense of comfort that you need while flying. You can pack a small bag with all the essentials and keep it handy when flying on private jets.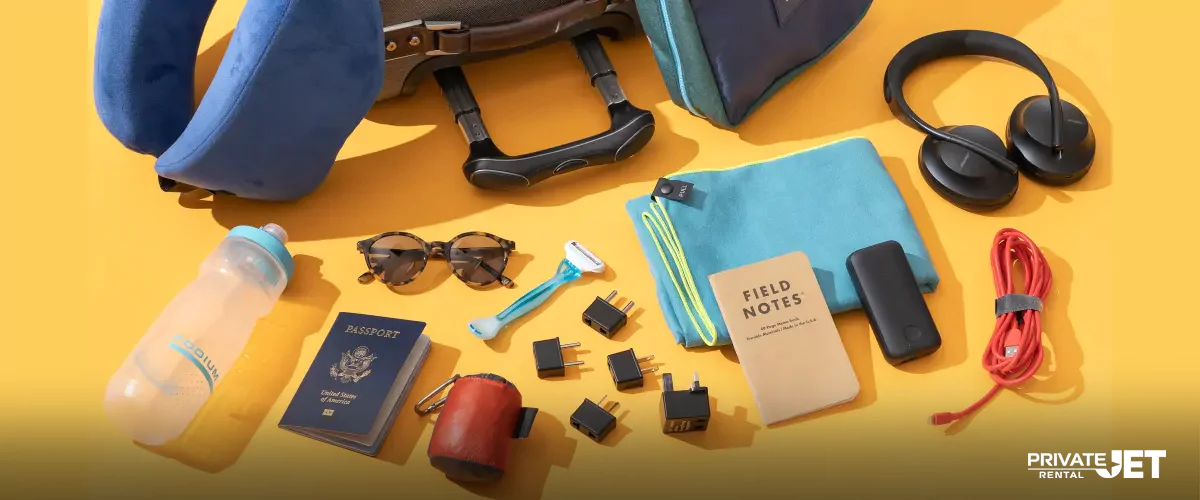 Private jet accessories to carry: Create a comfortable flying experience
Now that we have provided you with an elaborate list of best plane travel accessories to carry, we certainly believe that following it will help you enjoy a pleasant flight. If you are looking to travel to any destination in comfort and convenience, you can certainly charter a private plane from us.
Our private jet rental in Dubai offers you a chance to travel on the most sophisticated aircrafts with the top amenities. Now imagine flying on one of our jets with all the facilities you need, that's an experience you can't miss.